Explore the surface of another planet today with Google Mars. It'll help you work, rest and play. Seemingly.
Percival Lowell (1855-1916) is one of the best known observers of the planet Mars. Seemingly. I'd never heard of him until today after I had visited Google UK to discover that they are honouring him today, with this Google holiday logo: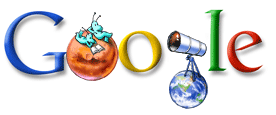 He made a globe of Mars too. So I've read. A few minutes ago.
I find Google Earth fascinating too, but there is nothing quite like 'flying' over the surface of another planet in our solar system. I was able to discover where the two successful USA Mars vehicles landed. MER Spirit Rover (USA) and MER Opportunity Rover (USA) both landed successfully in January of 2004, and remarkably are still running. It's amazing to think that those man-made-on-earth vehicles are still running about remotely on a completely different planet. I know people who are still amazed that you can change TV channels from the lazy comfort of your sofa!
The crash site of the failed Beagle 2 Rover (ESA) British lander, part of Mars Express mission, that failed during descent, can be found nearby — it's the yellow dot on the right hand side on the map above.
I blogged about that back in December 2003. For those who can't be bothered to click the link, here's what I wrote:
Bad news about the Beagle mission to Mars. It's always disappointing to get a new remote-controlled toy at Christmas only to find that it doesn't work properly!
I feel suitably small and insignificant now.
UPDATE: James Frost directed me to this video: Flight Into Mariner Valley, a narrated and computer-animated movie about the solar system's largest canyon, on Mars.